When your beloved pet canine or feline is suffering from incontinence problems, it can cause terrible inconveniences to your family. Of course, you'd want your dog or cat to stay with you and play around inside your home, but when it's constantly having "accidents," it can be a big headache.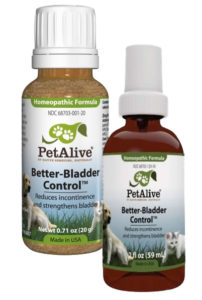 You can have your pet wear doggy diapers but introducing it to your pet can be a hassle, too. They might be uncomfortable and misbehave, while some pets can even take them off on their own. The best thing to do, without having to see a doctor or use prescription medication is PetAlive's Better Bladder Control – a homeopathic formula that temporarily relieves symptoms of incontinence.
Made in the USA by the leading company behind natural remedies for pets, it's a great solution for homeowners who want to keep their pets close and their house clean.
What is PetAlive's Better Bladder Control?
PetAlive's Better Bladder Control is distributed by Nature Remedies, a company that supports natural solutions for cats and dogs. It is a safe and effective natural solution and made in FDA-registered facilities. Specifically made to relieve symptoms of urine incontinence, it addresses the urethral sphincter muscles that control the release of toxins.
A powerful yet gentle formulation, Better Bladder Control contains a unique proprietary formulation made by the company's homeopathic experts under controlled manufacturing procedures. You are ensured of safe ingredients and top quality formulation that do not result to any side effects, so there's no need to worry about any interactions or adverse effects.
Let's take a look at the product's features and why it's a great choice for you family pet!

---
Product's features
1. Comes in 2 Convenient Forms
The formula comes in two forms to accommodate your and your pet's needs: in dissolvable granules and spray form. The granules can easily be dissolved in your pet's supply of water, you can sprinkle it on your pet's food, or you can place one inside your pet's tongue.
The spray form can easily be mixed with water, food, as well as sprayed on your pet's tongue, too. The difference between the two is that the spray is easier to administer while the granule takes more time. The taste of the formula is also more pronounced in the spray form.
2. Contains Natural Ingredients
There are no artificial ingredients used in the formula, so you are assured that it is safe. The probability of allergies or side effects are slim to none. Natural ingredients are also safer on your pet's overall health over prescription medication that contain strong chemicals that may cause some harmful effects.
3. Addresses Underlying Problem
The formula doesn't just address the simple problem of incontinence or excitability but it also promotes overall bladder health, which is what you want for your pet in the long run. It addresses the very muscles that control your pet's capacity to release urine, which are the urethra or sphincter functioning.
While other pet's problems lie on the lack of training, urine incontinence means your pet is not even aware that it's making a mess, so they can't really control where or when they excrete urine. While diapers and mats are great for training your dog where to relieve themselves, the formula works by solving the very problem to begin with.
Pros
Eliminates Need for Medication – most older dogs will suffer from urine incontinence. The product is a great solution for occasional incontinence. For more severe cases, a trip to the vet is always a good idea. But, if you don't have the time yet, and if you don't see it as a necessity, the Better Bladder Control is a great solution.
Easy to Administer – can you just imagine wrestling with your dog or cat because it doesn't want to put on his doggy diapers? Better Bladder Control's granules and spray are so easy to administer. If your pet doesn't open its mouth when you want it to take its dosage, simply mix the formula in his water or food.
Natural – natural ingredients are always a better option than products with chemical ingredients because it is safer and reduces risks for side effects or any further health complications.
Cons
Some pet owners find the price a little too steep for a temporary solution.

Some pets have a hit or miss reaction to the solution – they may go on two nights without wetting their beds or mats, and have an accident on the third night.

There are different dosages for different kinds of dogs in different weights or size – it's not a one fits all dosage, so you'd have to learn that beforehand. Or it could be a trial and error scenario if you don't know what you're doing – making you waste the formula.
Who Is it Good For?
The formula is good for pet owners who have dogs or cats that suffer from little urinary accidents every now and then. Sometimes, the problem may not be too serious but certain inconveniences may arise such as your pet smelling bad of urine, or their fur becoming wet and dirty. So it's a good temporary solution for these cases.
It is not ideal for dogs or cats who are yet to be potty trained, as they can still be taught the proper areas to relieve themselves.
If the problem is serious, such as constant urination at all times, then going to a vet might be a better idea.
The Bottom Line
Our pets will always have occasional incontinence accidents but when it becomes a problem, such as ruining your furniture, your carpet, floor, or bed, then PetAlive's Better Bladder Control is a simple and fast solution.
No more smell of urine, no more cleaning up after an accident, and you can finally play and pet your dog or cat like you used to.
Made of natural ingredients and easy-to-administer, it's an easy solution to a nagging pet problem.

---
PRODUCT DETAILS
What are the ingredients?
Better-Bladder Control is 100% homeopathic, contains these ingredients, and has the following indications (purposes): Cantharis 30C HPUS, Causticum 6C HPUS, Equisetum arv 6C HPUS, Ferrum phos 6C HPUS.
Cantharis 30C HPUS: intolerable urging to urinate, piercing, burning pains in the bladder, irresistible urge to urinate.
Causticum 6C HPUS: involuntary when sneezing, involuntary during first sleep at night, constant unsatisfied need to urinate, passes urine without noticing it.
Equisetum 6C HPUS: feeling of fullness of bladder, frequent urging, involuntary urination, frequent, heavy micturition with pain during and after urination.
Ferrum phos 6C HPUS: spurts with every cough, daily incontinence.
This homeopathic remedy is an OTC medicine. To uphold Food and Drug Administration (FDA) regulatory compliance, this product's Center for Drug Evaluation and Research (CDER) National Drug Code can be found underneath the product image on this page, listed after FDA NDC. PetAlive is the leading brand of natural remedies known for safe, effective and quality products. Our remedies are formulated by natural health experts and produced under the highest pharmaceutical standards in FDA-registered, GMP certified facilities. We utilize the finest quality ingredients that are officially monographed in the Homeopathic Pharmacopoeia of the United States (HPUS). PetAlive homeopathic products and biochemic tissue salts never contain any animal products, gluten, artificial colors, flavors or preservatives, and are not tested on animals. Our products are always backed by our One Year Unconditional Money Back Guarantee.
How do I use Better-Bladder Control?
Dissolvable Granule Form
Granules may be sprinkled directly into the mouth or as an alternative mixed with a small amount of wet food.
Initial dose: Every 30 minutes for up to 10 doses. Thereafter, 3 times daily.
Cats and Dogs under 20 lbs: 1 large pinch
Dogs 20-50 lbs: 2 pinches
Dogs over 50 lbs: ¼ cap
Better-Bladder Control is also safe for small pets.
Ferrets and rabbits: 1 small pinch
Hamsters, gerbils and mice: Approx. 15 granules
Spray Form
Initially, depress pump until primed. Hold close to pet's mouth and spray directly, or spray onto its food or water.
Initial dose: Every 30 minutes for up to 10 doses. Thereafter, 3 times daily.
Cats and dogs under 20 lbs: 2 sprays
Dogs 20-50 lbs: 3 sprays
Dogs over 50 lbs: 4 sprays
Better-Bladder Control is also safe for small pets.
Ferrets and rabbits: 1 spray
Hamsters, gerbils and mice: 1 spray
Note: Use only under supervision of a holistic vet. It is recommended that Better-Bladder Control be administered in conjunction with UTI-Free.
Caution: No adverse interactions have been noted between the ingredients in Better-Bladder Control and prescription medication treatment. However, as with any medicine, it is always advisable to consult your vet. If pet is pregnant or nursing, ask a health professional before use. If symptoms persist or worsen, consult a health care professional. Keep this and all medicines from the reach of children.
How long until I see results?
Natural remedies strive to create holistic balance in the body to support systemic health. The natural ingredients in our remedies support overall health and functioning
Pets respond to natural remedies in different ways. To ensure your pet maintains optimum health it is important to administer natural remedies as directed and remain consistent. You may also find that giving your pet a smaller maintenance dose is beneficial for ongoing support. Many customers report using them regularly as part of a maintenance program that supports continued health and well-being of their beloved animals.
How long will a bottle last?
One bottle of Better-Bladder Control granules will last for approximately 30 days, depending on frequency of use and the size of your pet.
One bottle of Better-Bladder Control spray will last for approximately 32-33 days, depending on frequency of use and the size of your pet.