#1 AIIYME Dog Dryer
Powerful Motor – Powerful Blow Force & Low Noise & Heat Insulation
Variable Temperature Settings –

Adjustable Temperature & Stepless Adjustable Speed Dog Dryer

Easy to Use
Strong Airflow Output
As dog owners, we want our pets to stay clean, smelling good, and healthy. But bathing them at home is not always the best idea. A soaking and wet dog shaking off his fur inside the house isn't exactly the greatest thing in the world.
If you have a short-haired breed, then bathing your dog might not be such a huge hassle, but when you have a thick-haired dog, such as our 3-year-old Siberian Husky, you know washing them can be laborious and tasking activity.
While having your pet canine groomed and bathed in a professional dog grooming salon is the best option, not everyone has that luxury. The next best thing is to buy a dog hair dryer that dries fur fast and efficiently.
The 3 Best Hair Dryers in the Market
If you're planning on buying one, choices in the market may be overwhelming. There are so many choices that it can be difficult to choose which ones work best. Fortunately, we've researched for you and came up with three of the best dog hair dryers in the market today.
We also tied each of these dryers ourselves. While our Husky only bathes about 2 to 3 times a year, we still felt we needed the dryer so we can skip heading to the groomer when it's time to clean our long-haired dog.
And so, without further delays, here is a review of 3 of the best dog dryers today:
Easy to Use
It comes with 4 Nozzles
Powerful Motor
Quiet
Three Temperature Variables
We love that this dyer is super easy to use. It has a 73″ hose, which means we can plug into an outlet in our kitchen and dry out our Husky just outside our door without the need for an extension wire.
The motor is powerful, too, even at the lowest setting, so we don't use that much energy to dry our dog.
Nozzle Flew Off at High Airflow Setting
When we tried the highest airflow setting, the plastic nozzle we used flew off. I'm not sure if it was our mistake, maybe we didn't attach it properly, but the second time we connected it, it flew off again. It took some time to secure it in place before it worked properly.
This dog dryer is one of the bestselling and most popular in the market. This was the very first dryer we tried. It has amazing reviews and is highly rated across all online marketplaces, and it's also one of the most affordable.
What we like about this dryer is that it's powerful. Even in its lower airflow setting, it packs a punch in powerful airflow. Our Husky didn't even try to get away from us the first time we tried it on her, and I'm pretty sure she enjoyed the blow of air on her undercoat, too.
The airflow variable is between 65 mph to 135 mph, which we think is versatile enough to use on our cat and our Husky. We do have a cat, and we plan on using the lowest variable on the cat.
At almost 5 pounds, we were quite surprised with how lightweight it is. It's a big dryer, so we assumed it would weigh more, but we like how portable it is.
Powerful Motor
Variable Temperature Settings
Easy to Use
Strong Airflow Output
This dryer features a stronger motor than the Shelandy dryer we reviewed first. Because it has a more powerful engine, we think it dried our Husky's fur faster, by about 10 minutes. We loved the fact that we could control the heat of the dryer and have the option of not using any heat at all.
Loud
Heat Setting is Erratic
While this dryer features an insulated metal casing that reduces noise, it's still quite loud. We do use it outside the house. Otherwise, our kitchen would be filled with Husky fur. It sounds like a regular vacuum cleaner, which our neighbors can hear.
We also noticed that the heat setting is a little erratic. When we used the medium setting, sometimes it would get too hot, then go back to medium heat again. Maybe there's a time limit to how long we should use it continuously? I don't know, but it did get too hot after using it for 20 minutes straight.
At 4.3 HP, this is the more powerful dryer. It features a temperature setting range of 35 degrees Celsius to 70 degrees and offers a step-less adjustable airflow. The output power is between 500 Watts to 3200 Watts, making it versatile enough to use on small pets to larger pets.
For our Siberian Husky, the drying time was only 20 minutes using the medium heat setting and medium airflow variable.
It also includes four nozzles: a narrow nozzle for partial drying, a round nozzle for making hair fluffy, a brush nozzle for making hair smooth, and a wide nozzle for whole body drying. We used the brush nozzle while simultaneously hand brushing our Husky's fur.
Durable and Sturdy
Easy to Use
Strong Motor
We love how strong and durable this dryer is. At 10 pounds, it's the heaviest dryer we used, and it doesn't move around when we pull on the hose to dry our dog. It's easy and ready to use out of the box, we attached the hose, and it was ready to go. We were able to dry our Husky in about 30 minutes.
This is the loudest dryer out of the three dryers we've reviewed. It did scare our Husky at first because it was making a loud noise. We had to persuade him to have his undercoat dried because he wouldn't come near it at first.
Unlike the dryers we've reviewed earlier, this dryer only includes three nozzles instead of 4.
And last on our list is the Go Pet Club Grooming Dryer, another popular and bestselling dog dryer in the market. The company behind this device is one of the most popular names in the dog grooming business, and so we expected a high-quality and durable dryer.
And, of course, it did not disappoint. It's so easy to use, with two-speed settings and two temperature settings. It's the most basic dryer out of the three we've used but also the most durable-looking. It uses 2400 watts of power and can offer a variable airflow speed of 25 M/S to 50 M/S.
It includes three nozzles, and the hose is flexible and durable with double reinforcement and puncture resistance features.
What is a Dog Hairdryer?
A dog hairdryer is a grooming tool that dries out a dog's fur. There are commercial and home-use dog hairdryers, with the latter is more economical and powerful enough to dry thick-haired dogs after a good bath.
While you might be tempted to use your very own hairdryer, it's not ideal to do so. First, a regular hairdryer is not big enough to dry an entire dog's fur unless you have a small breed, such as a chihuahua or a newborn puppy.
Second, human hair dryers get hot. While we can gauge if a hairdryer is getting too hot, your dog may not be able to communicate that with you right away, and you'll end up burning or injuring your dog.
A dog hair dryer is specifically designed to use on dogs of all sizes. They come in different airspeeds and power, as well as additional heat temperatures.
Buying one for your dog is an economic decision because it can eliminate the need to go to a professional groomer to bathe your dog.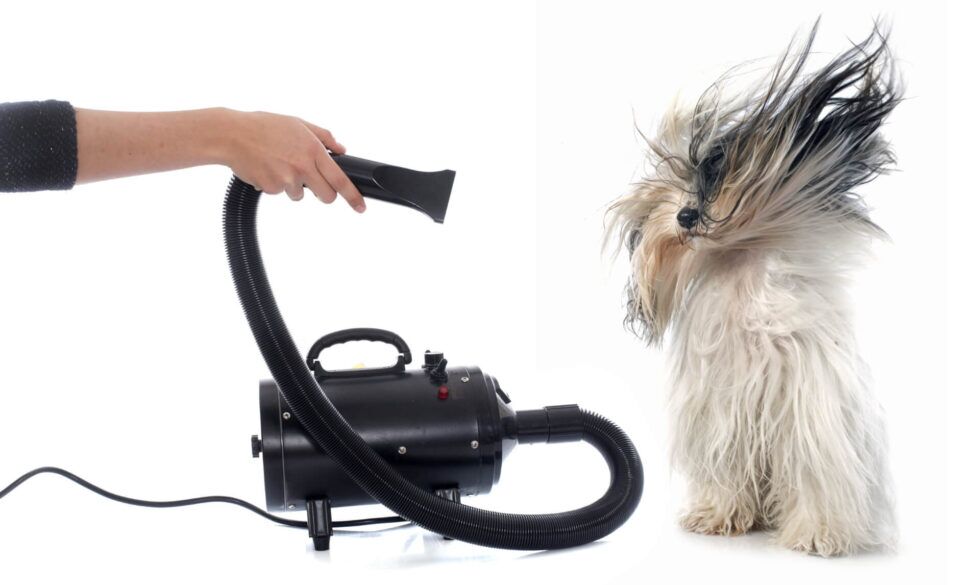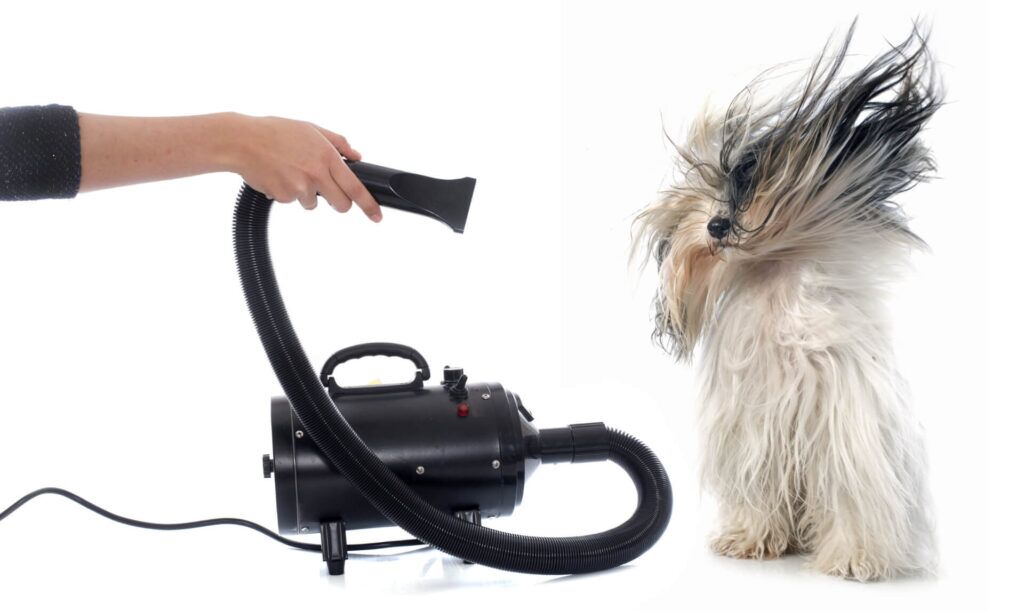 The Bottom Line
If you have a dog that you constantly have to bring to a grooming salon to make him clean and pleasant-looking, you will benefit from a home-use pet dryer.
These are easy to use, can be used on all kinds of pets, and are powerful enough to dry even thick-haired breeds.
Though your dog may need a little introduction and some getting used to, buying a dog dryer is one of the best investments you can make for your dog's grooming needs at home.