Paw – Best Memory Foam Dog Bed
Paw's™ premium orthopedic pet bed combines memory foam, faux fur & modern design

Water & Odor Resistant Material
10 Year No Flat Foam Guarantee
Reasons to love their dog beds
Truly Different
There are functional dog beds, and then there are beautiful dog beds. If you were to choose between the two, which would you choose? Not a very easy decision, is it?
On one hand, your pup is happy with his comfortable dog bed, but on the other hand, it doesn't really look great with your home. But what if we were to tell you that you can actually find a great dog bed that's both functional and aesthetically pleasing at the same time? Would you choose to buy it for your furry friend?
Well, that's what David Gimes had in mind when he created Paw dog bed – a premium designer fur dog bed company that produces innovative memory foam dog beds with home decor in mind.
Allow us to introduce to you, Paw, an award-winning manufacturer producing great quality memory foam dog beds and other products with luxury and design at its forefront of innovation.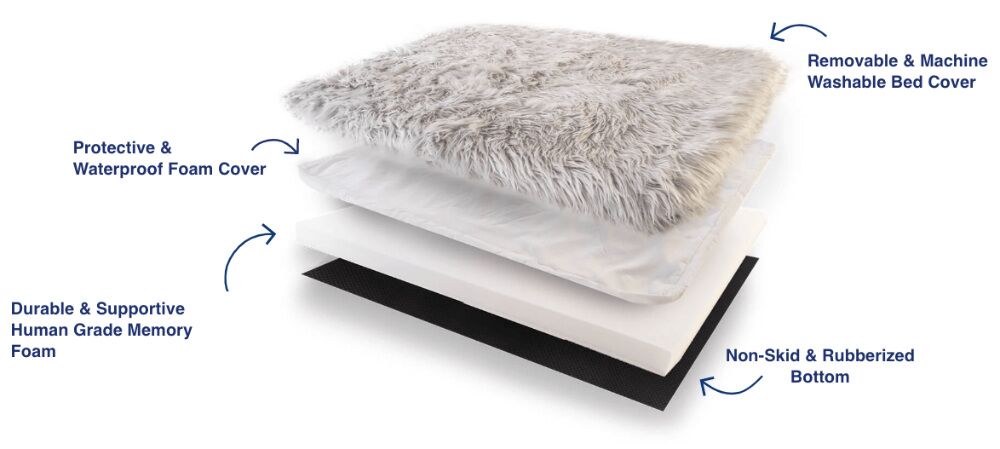 The world's most beloved dog beds
What is Paw?
Paw is a leading manufacturer of top quality designer paw dog beds, as well as other products that include pet car covers, blankets, and more.
As a designer brand, you can expect Paw's products to stand out from the rest of the dog beds available in the market. Each of their products have been carefully designed with home decor in mind, offering quality products that can double as rugs or carpets on your floor.
Aside from being the ultimate place for your dogs to rest and relax, their innovative products blend well with modern and contemporary homes. You can find faux fur, cowhide, as well as memory foam beds that look great in any area of your home.
The Story Behind the company
The company didn't initially start as Paw. In fact, its original name was Treat a Dog, after David Gimes initially started his company offering monthly dog treats or snacks. The company eventually developed products that catered to the comfort of dogs, such as dog beds, with their popular PupLounge product. They soon rebranded the company in 2019, and thus Paw was born.
David Gimes and his French Bulldog Marlie
David Gimes is a dog owner and lover first and foremost, and this is evident in the way he designs and tests Paw's products. All of the company's products are tested by Marlie, his pet French bulldog. If Marlie doesn't like the product, the company doesn't proceed with its production.
For David and the rest of the Paw team, dogs are family and should be treated as such. They believe that producing great quality dog products should improve the quality of life of your dogs, and thus, they continually strive to create innovative products that meet your dog's satisfaction first and foremost.
Paw is also an awardee of the 2018 TTPM Pets Best Dog Gear Product Award for their PupRug Faux Fur Memory Foam Orthopedic Dog Bed.
The company's headquarters is in Fort Lauderdale, Florida.
The Paw Products
Now let's go ahead with what Paw offers. They offer three categories of products, which are:

TRULY DIFFERENT and TRULY BETTER
Dog Beds
Paw is proud to announce its patent-pending PupRug line of dog beds. PupRug consists of 4 layers of materials:

Removable and washable bed cover
Protective and waterproof foam cover
Durable and supportive human-grade memory foam
Non-skid and rubberized bottom
The memory foam pet beds also come in 3 sizes, which are Small/Medium, Large/Extra Large, and Giant. The company provides a sizing chart so you know what size to get for your dog. They also suggest measuring the length of your dog from the tip of their nose to the end of their tail.
The covers are either made of faux fur or cowhide. Aside from looking beautiful on your living room furniture or floor, they're also easy to clean as they're removable and machine washable. You can also choose from different toppers so you can order one dog bed and purchase several different covers for more design options.
The dog beds are comfortable enough for humans that pet owner would love lying on the bed as much as dogs would. Though the memory foam on the beds is great for older dogs or those who suffer from injuries, any dog will love these orthopedic dog beds.
Memory foam beds are great for dogs who have hip dysplasia, or any dog who needs additional support for their joints and muscles. They're also great for younger dogs as they can prevent future ailments from developing. If your dog is also recovering from an injury, the beds also provide additional support by distributing their weight evenly throughout the bed.
TRULY DIFFERENT and TRULY BETTER
Travel Products
We love taking our pets with us when we travel but we must admit, they can mess up our car with all their fur, dirt, and mess that they leave behind. Well, this will no longer be a problem with Paw's Travel products.
They offer car seat covers with straps and belts for security, as well as their PupProtector Dog Cargo Liner, and their PupCarrier Dog Car Booster Seat. The Booster Seat is perfect for smaller dogs to hold them in place as you drive on the road, and the Cargo Cover is perfect if you have multiple dogs and you don't want to place them in a cage as you go.
All of Paw's Travel products are made for the universal fit of any standard vehicle.
Water & Odor Resistant Material
10 Year No Flat Foam Guarantee
In-Home
The In-Home products are designed to pamper your pup and protect your furniture. They offer waterproof throw blankets and even a unique dog feeding mat.
The patent-pending blankets are designed as machine washable, waterproof, and of course, great looking, whether you place them in your kitchen dining area, your living room, or hang them over your bed frames when your dog doesn't use them.
And introducing the Wooly Snuffle Dog Feeding Mat, which is built to stimulate your dog's natural foraging instincts. It's a feeding mat with a twist, engaging your dog's natural sense of smell as they sniff their way into snack time or dinner when you place their treat or meal within the mat.
The Good and the Not So Good
Reasons to love their dog beds
Truly Different
Like all things, there are always advantages and disadvantages to everything. Let's take a look at the great things that make Paw's products stand out, as well as the not so great things about them.
Let's begin with the good things, followed by the not so great things.
1. Aesthetically Pleasing
If you're looking for a dog bed, blanket, or cover that looks sleek, chic, and contemporary, you won't find anything better than Paw. They're designer dog beds for a reason, and that means they've been carefully designed and thought of with your dog's needs and your home's decor needs in mind. They're just beautiful. Plain and simple.
2. Orthopedic Dog Beds
Aside from looking absolutely beautiful, they're also extremely functional. The memory foam is comfortable and medically beneficial.
3. Easy to Clean
All of Paw's products are removable and machine washable. Just take out the cover from the dog beds and throw them in the wash. Even the blankets and seat covers are machine washable, too.
1. The Style is Not for Everyone
Not all pet parents will have a liking to the style or design of the products. They're more on the modern, sophisticated style and not everyone may have a liking to it.
2. Expensive
Like all designer products, they're always more expensive than the regular options you can find in the marketplace.
The Bottom Line
Dog beds are a necessity for your dog but that doesn't mean you have to sacrifice the look of your home to make your pup comfortable. While most dog beds look dowdy and hideous, Paw's products are luxurious and beautiful, and at first glance, you'd think they're more like expensive rugs than dog beds, when in reality, they're actually pet beds or blankets.
But unlike other products in the market that sacrifice one thing over the other, Paw offers the best of both worlds. They offer great products that meet both function and design. A little more expensive than the usual, but that's a price you have to pay for hitting two birds with one stone.
Though Paw's products are not of everyone, considering the style and price, if you're looking for a beautiful dog bed or blanket that looks great in your home, there's no other brand in the market that offers these beautifully made products other than Paw.